Is a Treeless Saddle Right for Your Horse?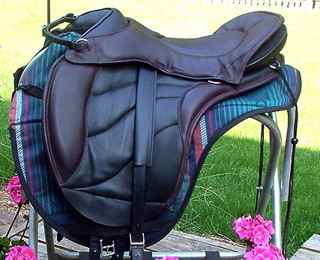 Treeless saddles are an increasingly popular alternative to traditional saddles.
They are available in many styles, including English, Western, Dressage, Trail and Endurance.
The western style saddle may or may not have a horn, but as the saddle is not built on a solid frame, it is not suitable for roping.
Protecting your Horse's Spine
Like with any saddle it is so important that you investigate the saddle to be sure it is going to work for you and your horse. If you are going to be spending hours riding, you want to make sure that not only is the saddle comfortable for your horse's back, but that it protects the spine, ligaments and muscles as well.
In a traditional saddle, the hard tree does this~as long as the saddle fits properly and the tree is doing its job. As treeless saddles do not have a rigid frame, they often come with the ability to add or remove cushioning to give you and your horse more support where it is needed. This ability to customize also means they can be used on a variety of horses.
Makers of quality saddles go to great lengths to ensure they do support and distribute the weight of the rider across the back, not the spine and withers, but it is essential that you choose the right saddle, with the right inserts for you and your horse.
Choosing the right Saddle
Before deciding on a treeless saddle, make sure you do your research. Many distributor websites, such as First Choice Treeless Saddles have great FAQ sections that can help you decide if you and your horse would benefit from going treeless. Many also give you the option of trying before you buy. If you don't have a dealer in your area, they will ship you a sample saddle for a trial period.
Horse forums are valuable pools of information on saddles, especially as they are written by people with experiences (good and bad) with a multitude of products. The Art of Natural Dressage forum has a large section on tack, with great discussions on several brands and models.


Related Pages
Bitless Bridles
Saddles
Return to Horse Riding Tack
Return to Tender Loving Horse Care Home